7 Rules for Wearing Statement Jewelry
Jewellery is the perfect way to bring life to an outfit and enhance your best features. What better way to do so than to complete your look with a bold, striking and attention-grabbing piece of statement jewellery?
Jewelry is the perfect way to bring life to an outfit and enhance your best features. What better way to do so than to complete your look with a bold, striking and attention-grabbing piece of statement jewelry?
Statement pieces are designed for you to have fun with, but can make all the wrong statements if they are not worn correctly.
The beauty of statement jewelry is that it only takes one piece to make your whole outfit stand out. The key is to keep it simple and either work your outfit around one big eye-catching piece, or to work well-coordinated statement accessories into your look by striking the right balance.
From cocktail rings to cuff bracelets and bib necklaces, statement pieces come in all forms, designs, colours and sizes. They can work wonders to add dazzle to a simple dress or can help to draw attention to parts of yourself that you would like to emphasize.
Either way, make sure you follow our rules to pull off a look that gets people looking at you in awe rather than dismay.
1. Less is more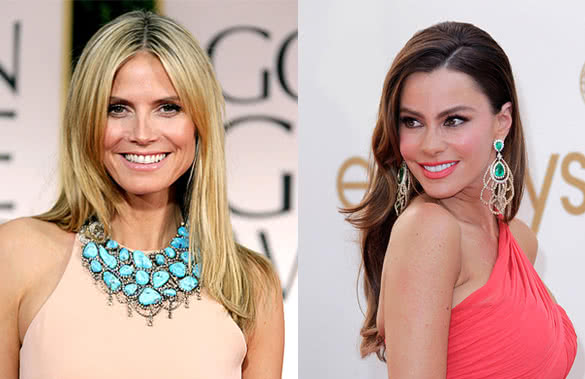 Bold pieces should be allowed to stand out, so do not over-crowd your look by wearing them within close proximity of each other. It is preferable to wear one at a time, but if you do want to wear more than one statement piece, make sure not to wear statement bracelets and rings together and avoid wearing statement earrings and necklaces at the same time.
Chandelier earrings and a cuff bracelet can look beautiful when worn together, while a long necklace and a cocktail ring can match perfectly. Just make sure to select items that coordinate. Try to stick with the same kind of metal and avoid clashing patterns and charms.
Layered chain necklaces can look extremely charming if worn correctly. Keep your look tasteful by making sure that you do not layer too many strands together and keep tabs on how much sparkle you layer on.
Avoid wearing long chain necklaces, however, if you are wearing a belt, as there will be too much going on around the same area. Wide chokers and bib necklaces can stand to be your sole statement piece, so let such items take center stage and forgo other pieces of jewelry.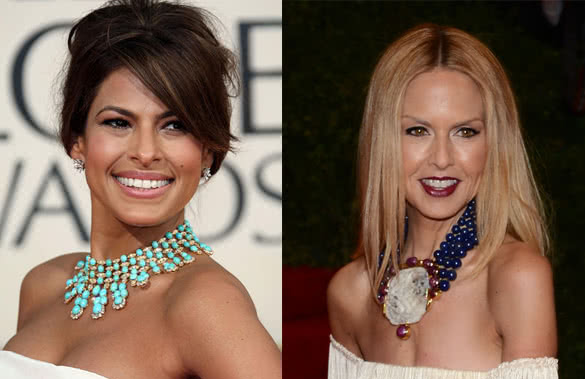 Big accessories are best worn with simple clothes. Steer clear of busy patterns and embellishments such as sequins when wearing bold jewelry. Remember, you want your statement piece to stand out, so match items wisely.
A little black dress is the perfect match for one or two attention-grabbing pieces, while jeans and a pure white top will make an ideal backdrop for something big, bright and colourful. Try to stick to neutral and block colour items when wearing bright and detailed accessories. Less busy pieces can work very well with patterned items of clothing, however.
Don't pull the focus away from your bold jewelry. Coordinate smaller accessories with your statement pieces by keeping them to a minimum and sticking to the same colour or metal.
3. Choose earrings wisely
Statement earrings are beautiful, ornate and cannot be missed. They will be the first thing that anyone talking to you will notice. To make sure they frame your face, choose a pair that suits your face shape and enhances your features. Choosing the wrong pair can be distracting, so take details such as length, colour, shape and outfit coordination into consideration when choosing adornment for your ears.
When wearing dangly statement earrings, it is better to keep your hair sleek and not too big. Remember, it's all about balance, so while you can pump up the volume with simple earrings, larger ones will balance better with loose waves or poker-straight hair.
Alternatively, pull your hair up into a chic chignon. Also make sure that your make-up balances well with your earrings. If you are wearing a brightly coloured pair, they may look best with clean and simple makeup.
4. Match the right necklace with the right neckline
The best way to make sure a statement necklace stands out is to wear it with the right neckline. Strapless, off-the shoulder, scoop necked or v-necked dresses and tops are ideal, as they will let your statement piece do the talking.
Collars, halter necks and detailing close to the face should be avoided, as they will clash with bold pieces. A one-colour turtle-neck sweater can work beautifully with a statement necklace, provided that it is form-fitting and one colour throughout.
Make sure to wear a statement necklace next to a simple and preferably one-colour top to keep the look chic and to do your necklace justice. You can never go wrong with neutral tones, so wear bright and attention-grabbing necklaces with black, white or nude to keep the look elegant.
5. Pay attention to your hands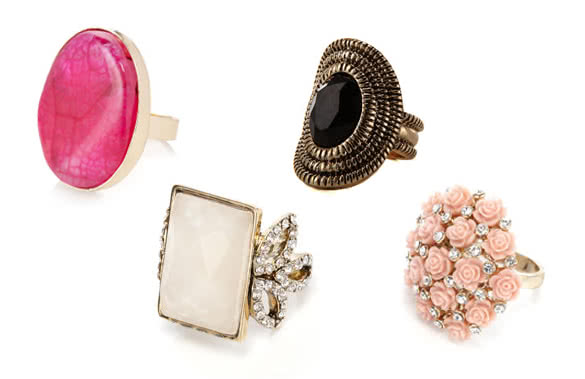 When wearing a bold ring, it is worth remembering that it will draw attention to your hands, and consequently, your nails, so make sure they are perfectly groomed. Go for a simple manicure.
Make sure that the colour of your nail polish does not clash with the colours in your ring, and avoid wearing a bold and colourful ring with multi-coloured manicures, nail art and glittery nail polish. While this may look cute on an adolescent, it does not exactly convey a statement of elegance.
These eye-catching rings are the smallest of all the statement pieces, so have as much fun with them as you like. The bigger and brighter, the better. Just remember that balance is key, so it is better to wear one at a time.
6. Adorn your arms tastefully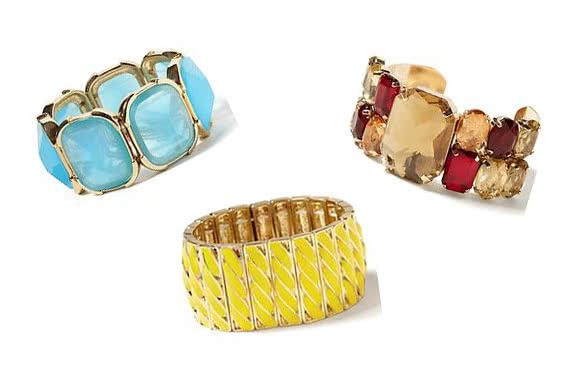 Cuff bracelets are an excellent choice if you want to wear a statement piece. To show yours off, keep your arms bare or wear a cuff over a slim-fitting one colour long sleeve top. Stick to one cuff to create a focal point.
Bangles are another great option. Just remember that if you would like to stack a number of bangles together, stick to one arm only. Keep to a maximum of six bangles at a time as a general rule of thumb to avoid overdoing it and make sure that the bangles' colours and patterns complement each other. When layering bangles, throwing in some gold or silver always looks great.
7. Wear pieces that create an outfit
Remember that statement pieces are supposed to make – you guessed it – a statement, so choose pieces that help to create an over-all outfit. If you are going for a prim and polished look, opt for pearls.
Vintage or floral pieces will look beautiful with a romantic and feminine outfit, while colourful beads are a must if you are going for a boho look. A bold cuff will compliment a block colour mini dress, while chandelier earrings will look gorgeous with a long flowing maxi.
Source: YouQueen Magazine